In his 20-plus-year career as a chef, Chris Shepherd has grilled thousands of dishes, including chops, T-bones, and cauliflower steaks. But it wasn't until the pandemic that the affable, James Beard-winning cook, whose Underbelly Hospitality operates a number of dining and drinking establishments in Houston, became transfixed with the art of cooking over fire.
He had an epiphany while watching a MasterClass online cooking course from Aaron Franklin, founder of Franklin Barbecue in Austin. "There was a section of the show on how logs burn and how the taste changes at different times during the burn," Shepherd says. This idea inspired him to examine the art of cooking over open flame seriously, and he began practicing and experimenting. And shopping: After buying a new house in 2020, he went out and bought three grills, including a Big Green Egg, adding to the three he already owned.
His favorite purchase turned out to be the Asado Fire Pit, a somewhat misleading name for a multitiered grill. It comprises a series of grates that you can position at varying heights above the heat source, as well as an upper grate that you can use to hang poultry, pork, tomahawk rib-eyes—anything, he says, you want to impart slow smoke to, "then bring down for some high-heat action." Made by Mill Scale Metalworks in Lockhart, Texas, it starts at about $2,000.
Shepherd has grilled lots of different things on it—pineapple, flatiron steaks—and all at the same time. His favorite food from the pit is chicken, which he hangs to absorb smoke before putting it directly on the lowest grate level to crisp the skin. "Smoking usually gives you rubbery skin," he says. "This gives you smoke and crispy skin" while the meat stays moist. "Once you make that chicken, you have to do it again and again."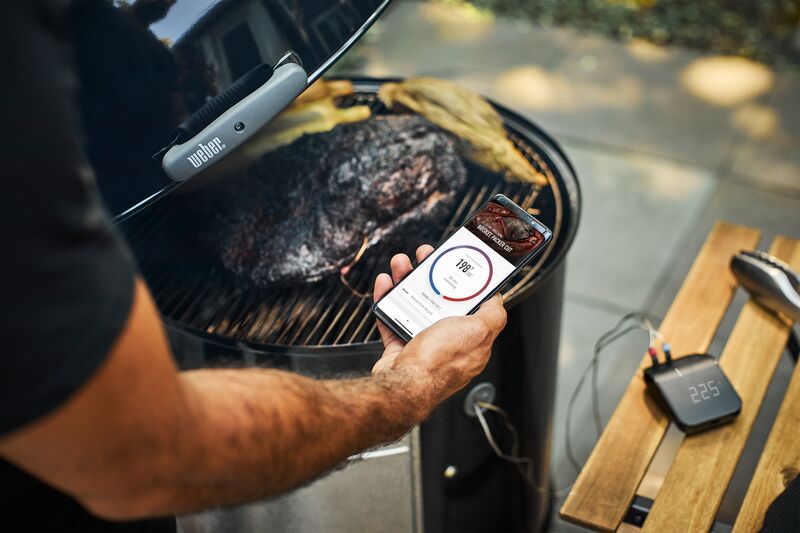 Matt Johnson, who started Mill Scale with his brother Caleb in 2018, says Shepherd is using the device exactly as they envisioned. The inspiration for the equipment came from a party where more than two dozen South American chefs built their fire on the ground. "They were cooking whole animals, using all parts of the fire," Johnson says. "You had to be careful where you walked because there were onions in the ashes, chicken hanging over your head." He determined they could physically elevate the time-honored cooking technique, taking it off the ground while still being resourceful with every stage of the fire.
"Everyone likes to grill, but it's not easy to know fire," Shepherd maintains. "You don't throw logs on, light a match, and go for it," he says. "Rookie mistake, throw a steak on a hot fire, and then you have to explain to everyone why you're serving them charred meat." He often lets a fire burn for three hours before he puts anything on top of it.
This newfound focus on flame has inspired his latest restaurant, Wild Oats, where the kitchen is anchored by a custom pit made by Franklin that Shepherd named "Grillie Nelson."
Beware, though: Once you start cooking by fire, it's got the same addictive quality that fly-fishing or mastering an omelet has; it's a seemingly simple endeavor that can instill a Zen-like focus—and an endless quest for perfection.
Read on for advice from a few other skillful grillers on how to be the pitmaster of your domain.
Think big. Really big
When people reach out to Erika Nakamura about planning to grill for a large group, she often hears the same thing: "I'm gonna go for something easy." But "easy," in the mind of most weekend grillers, "usually translates to small, little things that you're flipping and tossing and turning on the grill for hours." Nakamura and Jocelyn Guest, who together run Butcher Girls, a delivery service in Dobbs Ferry, N.Y., recommend something different.
"In general we always like to cook larger-format things: a superthick côte de boeuf, or an entire bavette, or a crosscut pork shoulder steak, bone-in. You cook the whole thing intact, and then you slice it." It's not only more impressive, but it's more forgiving, too, Guest says. "If you're cooking a big-ass steak, you then have the wiggle room to go get a glass of wine and know that it won't get hammered. Self-care is really important."
If you want to go even bigger on both the grilling and the self-care, hire Gavin Runzel and Norberto Piattoni, who together are the Modestos, a catering company in New York's Catskill Mountains. They specialize in Argentine-style open-fire cooking, often of whole lambs, pigs, chickens, and fish on rustic cooking structures built from branches and other materials gathered on-site. "It ends up being a very social thing," Runzel says. "There's a bonfire going, so everyone ends up hanging back by the outdoor kitchen, so to speak, asking questions and learning a lot more about where the food came from."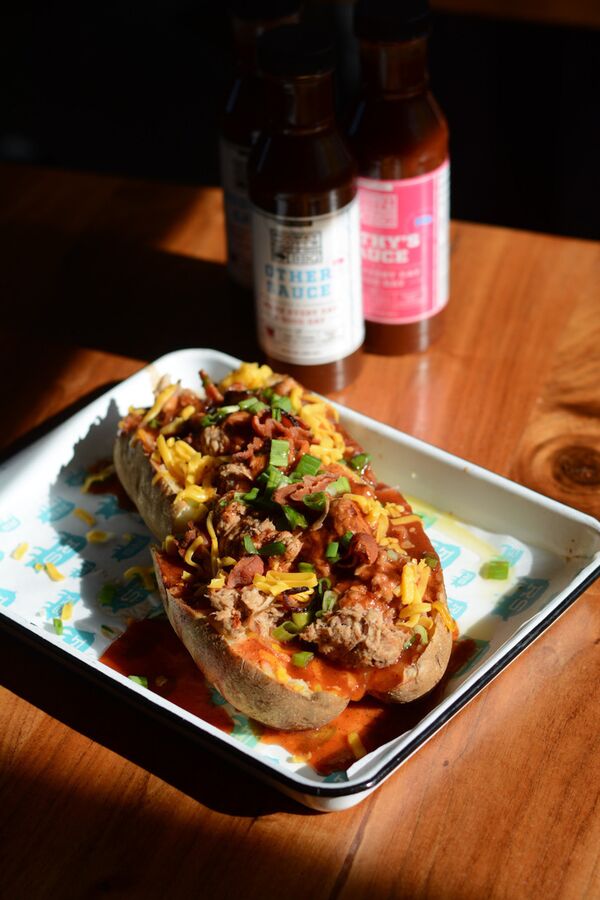 Get your air from somewhere
As all grillers know, fire starts with fuel and air. Chef Michael Solomonov, whose new Brooklyn, N.Y., restaurant, Laser Wolf, specializes in Israeli-style charcoal-grilled skewers, says airflow is critical to get a smoky char on the outside without drying the inside.
"It's always the white whale, something that you're working toward," he says. "I know it sounds ridiculous, but taming smoldering charcoal is really, incredibly difficult."
Laser Wolf's breezy rooftop location ensures the kind of flow needed to keep his coals blazing, but a tranquil backyard might need help. For such a situation, Solomonov takes inspiration from the grill masters in Israeli kebab restaurants, called shipudiya, who use a hair dryer to stoke the coals. "They're just holding, like, a hundred kebabs in one hand and flipping them, with the blow dryer underneath," he says. "It's awesome."
Choose your signature
Whether or not you have a Promethean command of fire, it helps to find a protein to perfect. Plenty of people choose brisket or ribs to obsess over, but chef Lee Desrosiers picked poultry as his culinary calling card. He started serving it on Sundays at Achilles Heel in Brooklyn during the summer of 2016; he's since relocated to the San Francisco Bay Area, where he runs an events business, Hell Chicken (named after the dish), that specializes in live fire cooking—and sometimes caters weddings for people who fell in love over his food.
One of his favorite discoveries ("I don't want to say it was a mistake," he says) was resting the birds in a fireside Dutch oven after smoking them. "All of their juices and schmaltz, it kind of comes out in the pan. That jus is a really concentrated and flavorful ingredient. I often toss it into the salad." The schmaltz, he says, gets poured over rice, which is then crisped on a plancha.
Don't bother (yourself) with sides
"The grilling is the fun part," says chef Hooni Kim, owner of Korean restaurants Hanjan and Danji in New York. "But the side dishes and all of the prep work that needs to be done?" Less fun, he observes. Often they're more work than the main event, but they don't have to be. You can always order some premade sides from a specialty shop.
This July, Kim is opening the Little Banchan Shop in Long Island City, which will have 60 to 80 prepared dishes available to go at any given time. (Banchan are the sprawling family of small side dishes typically served with Korean meals.) Kimchi and other pickled and fermented vegetables are great for cutting through the fat and richness of grilled meat. There's also, of course, potato salad, into which he adds vegetables that have already been pickled.
"Those little bites and the crunches that you get inside the potato salad give it that vinegary, bright flavor that is such a good complement to not even just Korean barbecue but any kind of grilled meat," he says. For a more traditional delivery, Dreamland in Tuscaloosa, Ala., will ship its baked beans and coleslaw. (Each is $8 for 2 pounds.)
If you insist on making your own, take a page from the book Rodney Scott's World of BBQ, where the South Carolina pitmaster recommends using the gentle heat of the pit to bake sweet or russet potatoes. Just oil and salt them, wrap them in foil, and nestle them into the coals, then load with smoked pork, barbecue sauce, scallions, and crispy bacon bits. "It's the equivalent of a one-pan meal for me," he writes.
Nail your time and temperature
Weber, maker of the most popular low-tech grill in America, now has a high-tech accoutrement: the $140 Connect Smart Grilling Hub. It magnetically attaches to any grill or smoker and has two Bluetooth-enabled temperature probes that alert you, via app, when it's time to flip your steaks or adjust your smoker. The same app helps optimize heat distribution by suggesting specific ways to preheat and allocate grill space according to your chosen ingredients—and personalizes alerts depending on cut, thickness, and desired temperature. The device eliminates all the guesswork and, in our tests, yielded perfectly cooked meals every time.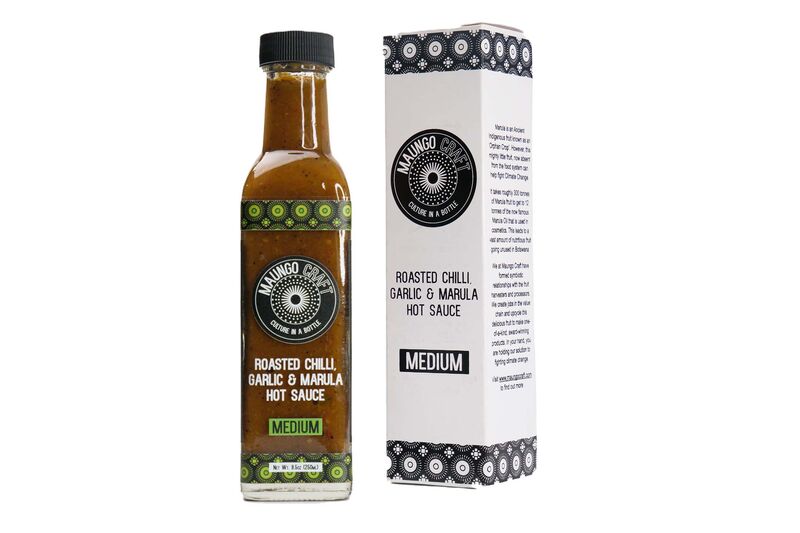 Sauces are to savor, not be a savior
"You always want to be able to eat your BBQ without the sauce. That's the test," writes Compton, Calif.-bred, Texas-trained pitmaster Kevin Bludso in his cookbook, Bludso's BBQ Cookbook: A Family Affair in Smoke and Soul. "Your sauce is not a lifesaver to rescue bad meat. BBQ sauce is supposed to be a condiment to complement great meat. So why not have a good-ass sauce with some good-ass meat?" The sauce in his book is indeed a good-ass sauce, balancing sweetness and heat, perfect for pulled pork or, even better, his rib tips.
For a similarly good-ass sauce that you don't have to make, look to Maungo Craft's Roasted Chilli, Garlic & Marula Hot Sauce ($13.50). If you were in Botswana, where this sauce is made, you might have it at a backyard braai with some kudu—a spiral-horned antelope—grilled over camel thorn wood. Fortunately its mildly smoky spice flavor is also suited to less exotic offerings, such as chicken wings.
You can always take a good class …
The Culinary Institute of America doesn't just turn out professional chefs: Since 1999 it's offered Grilling and BBQ Boot Camps for ambitious amateurs.Two-day events (from $925) that cover everything including low-and-slow cooking techniques and better brining are offered at the CIA's facilities in Hyde Park, N.Y.; Napa, Calif.; and San Antonio. For an even more intense grilling getaway, head to Central California's Santa Ynez Valley, where Alisal Ranch, with its luxurious vision of the West, has 50 miles of riding trails sprawling over 10,500 acres. The resort puts on periodic BBQ Bootcamps (from $2,500 for two), where guests get hands-on time with notable chefs in workshops on equipment, grilling, and spice blending.
… Or read a great book
Top cookbooks offer inspiration as much as they do instruction. The very best ones entertain as well. Even though Nicole Taylor's Watermelon and Red Birds is subtitled A Cookbook for Juneteenth and Black Celebrations, you'll want to cook from it all summer long. It's a vividly illustrated, enjoyable read in its own right. Taylor describes cookouts as "sacred … the closest thing we get in modern life to the tribe gathering around the ceremonial fire." Her recipes include peach and molasses grilled chicken and a "very green coleslaw" punctuated by grilled poblano pepper. She calls it "the perfect accompaniment for sauce-drenched pork."
Tennessee pitmaster Pat Martin's book, Life of Fire, is as much autobiography as whole-hog barbecue how-to. It covers everything from the right kind of pig to the shoes (not boots) you should be wearing for the task. He even adds insoles to his sneakers for extra padding.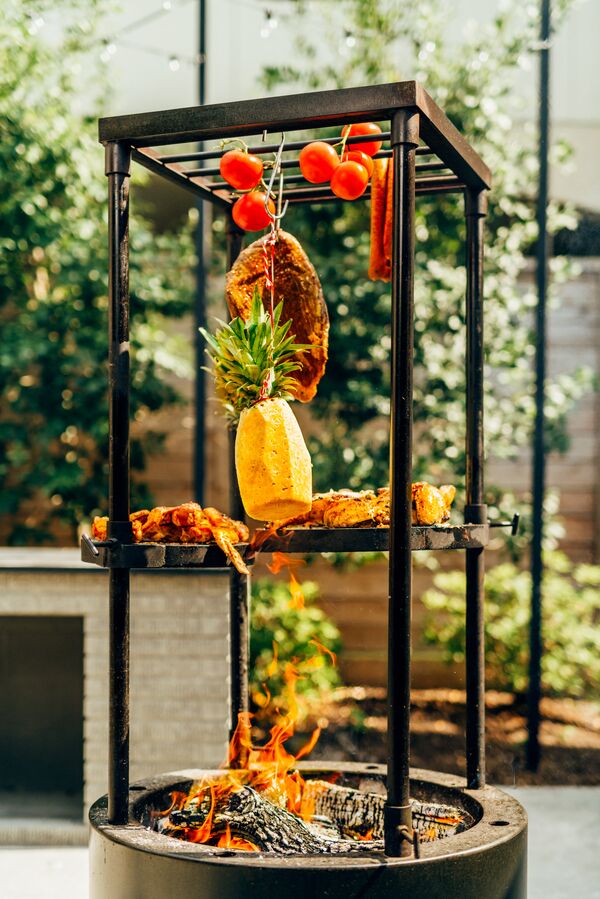 Show off a little
Kerry Heffernan's career stretches back more than three decades, spanning fine dining to the creation of Shake Shack's burger. At his home in Sag Harbor, N.Y., though, he cooks using his dockside Traeger grill. The new Timberline XL ($3,800) can hold 22 pounds of pellets in its hopper and cook a dozen pork butts at once. Although ideally suited for low-and-slow cooking, the Traeger grill Heffernan likes to use provides a quick, smoky flavor to often unappreciated fish such as bluefish and cape shark, which, when smoked, he says, can be sliced "like sable or salmon."
You can shift fish or flip burgers in style using Eugene, Ore., bladesmith Ben Tendick's brightly patterned titanium spatula sets ($455). The colorful designs are created during the anodization process, so they're there for life. The set includes a large, thin spatula, designed for delicate work; a wide-head version for flipping burgers; and an offset spatula for spreading cake frosting or smearing a schmear.
Worst case? Just fake it
If you've committed to feeding a yard full of people but worry about sticking the landing, having an expert-made backup brisket or a few racks of replacement ribs on hand is the kind of contingency planning that guarantees a good time will be had by all. (Especially you.) For hickory-tinged pulled pork and Memphis-style dry-rub ribs, Nashville's Peg Leg Porker sets the standard (from $115). The giant beef short ribs from Lewis Barbecue in Charleston, S.C., truly live up to their name, weighing in at a pound apiece. As tender as they are tremendous, three are enough to feed six to eight people, though the spectacle of doling out one rib per person may be too much to pass up ($139). Then, of course, there's the salt- and pepper-rubbed brisket from Franklin Barbecue (from $250), each of which should serve 8 to 10 people. They all ship nationwide and come fully cooked.