The Peg Leg Porker owner's BBQ for Dummies is out April 13
"Any dummy can do it. It is written for dummies."
That's the on-the-nose way local pitmaster Carey Bringle describes his new book, BBQ for Dummies, which goes on sale April 13.
"Barbecue is all about time and temperature," Bringle tells the Scene. "Anyone can do it. There's clear science behind the way the meat cooks. But people rush it, they freak out, and they do not use common sense. The patience part gets everybody."
Many of us have learned how to keep sourdough starter alive or how to bake TikTok feta pasta over the past year, but many of us have also ruined a perfectly fine piece of meat by just throwing it over hot coals and hoping for the best. 
Bringle, who owns Nashville's Peg Leg Porker, was approached by John Wiley & Sons — publishers of the Dummies series — to write a barbecue book that covers all the basics. The famous series, known for breaking down complicated subjects into bite-size pieces, already had a grilling book, but it hadn't had an expert tackle the South's favorite way to make its meats. 
"Barbecue is about having a good time and fun," he says. "If it makes you angry or mad, you are doing it wrong." The fact that barbecue is time-intensive — "low" and "slow" are the watchwords — makes it an ideal activity for spending time with friends and family. That's exactly why the community of professional pitmasters is so tight, Bringle says. They've spent a lot of time together waiting for a smoker to do its thing.
It should come as no surprise that Wiley tapped Bringle as the expert in all things smoked and charred meats. He's been smoking meats for more than 35 years and has been included on Southern Living's "Great American BBQ Bucket List," participated in the Food Network's BBQ Brawl: Flay V. Symon, and placed in the Memphis in May World BBQ Championship many times. In 2013, Bringle opened the doors to Peg Leg Porker in the Gulch.
Bringle describes the process of writing and dealing with the effects of the pandemic on the restaurant business as "tedious and long — it was very difficult to focus, and I was trying to work on all our other projects." Fortunately, he had the help of a ghostwriter to keep the project moving forward.
Those other projects include Bringle's Smoking Oasis, which will open in The Nations by the end of May and will be more focused on Texas-style barbecue than the pulled pork and ribs that are on the menu at Peg Leg. Bringle's Smoking Oasis will sell brisket by the pound, to be sliced in front of you. He's also working on a new barbecue location at the Nashville International Airport (meats will be smoked off site) and a separate USDA kitchen for making sauces. A bourbon-tasting facility may be in the works too. As Bringle's empire expands, though, there will be only one Peg Leg Porker — each new restaurant has its own name and focus, and so the Gulch location will continue to be a destination of its own.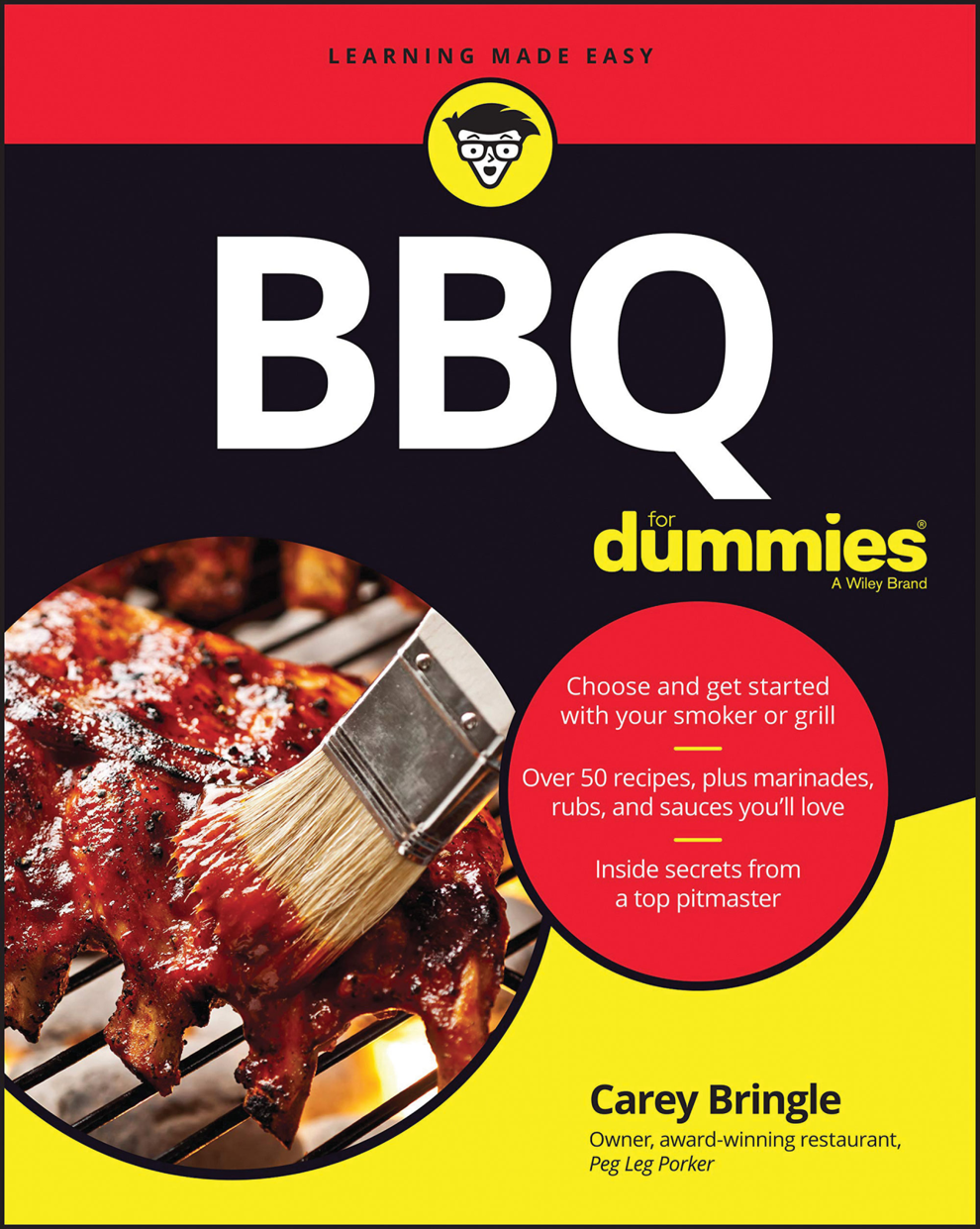 But for now, he's gone back to his roots, describing BBQ for Dummies as a basic reference guide and beginner's guide. Bringle was born in Nashville but has West Tennessee roots — his family settled there in 1827. "My family instilled in me how much great barbecue there was in West Tennessee and how it brought people together," he says. When Bringle was in high school, his grandmother would cut articles out of the newspaper about barbecue and send them to him. But he's the first in his family to make a living cooking barbecue.
BBQ for Dummies takes readers through every step of making good barbecue, and does so in a way that allows you to flip to a page and find a nugget of wisdom, or read it in sequential order. The 288-page book, which adheres to the tried-and-true Dummies book formula, includes 120 recipes — 50 of which are for marinades, rubs, injections and sauces — in addition to his advice on barbecuing and smoking.
Bringle encourages readers to know where their meat comes from and to buy from butchers who know what they're talking about. In Nashville, he's a fan of Porter Road Butcher and Bare Bones Butcher, but concedes that not everyone has a local meat market in walking distance. Building a relationship with the folks behind the meat counter at warehouse stores like Sam's and Costco is his next pick, because they tend to have larger cuts like brisket, pork shoulder and butts. He likes those cuts because they are "very forgiving."
Recipes in BBQ for Dummies include options for pork shoulder, lamb shank, brisket and beef ribs, as well as appetizers including barbecue nachos and mac-and-cheese. The mac-and-cheese is not the exact recipe from Peg Leg, but a good one that can be made on the grill at home for a smaller crowd than he cooks for at the restaurant. Desserts including a grilled peach are included too. "The secret sauce" to successful barbecue, Bringle says, is having thick smoke and a spicy rub, and recipes are included for that as well.
The pitmaster encourages his readers to start simple. "You do not need to make it more complicated than it is," he says. "People want to over-season and over-smoke and try to doctor it up too much. After you master making tender and juicy meat with salt, pepper and the right smoke, then you can start mixing it up and trying your own flair."
Other advice includes how to pick out a grill or smoker, what woods to use, what tools you need, and the all-important times and temperatures for the right piece of meat. 
This may be the outspoken Bringle's first book, but it likely won't be his last — he's thinking about writing a more personal tome. "This is not my life story," he says. "This is not the Carey Bringle Chronicles. It does not include the many incidents I have had in my life. The next book will focus on Tennessee. It will be my journey through barbecue."
In the back of the book, Bringle lists 10 essential barbecue restaurants. Peg Leg Porker is one, naturally, as are three spots within a three-hour drive of Nashville. So if you get tired of following his advice and want to have someone else make your meat for you, you can plan a barbecue road trip. The book is focused on making your own barbecue at home, of course, but there are also some tips if you are going to opt for takeout instead: Ask for your meat to be pulled or sliced in front of you, for instance, as that makes it less likely to dry out than if it has been pre-sliced. When reheating at home, pick a low temperature and warm it slowly — again, the goal is to keep the meat moist.
"As long as we are all eating good barbecue," adds Bringle, "that is a good thing."